Loans without guarantor, are they right for me?
No guarantor loans are a specific type of short-term loan designed for people who are unable or simply do not wish to have a guarantor when they take out a loan. In the past, this was difficult as most direct lenders saw providing no guarantor loans to someone with bad credit as risky, so having a guarantor was an easy way of securing a loan.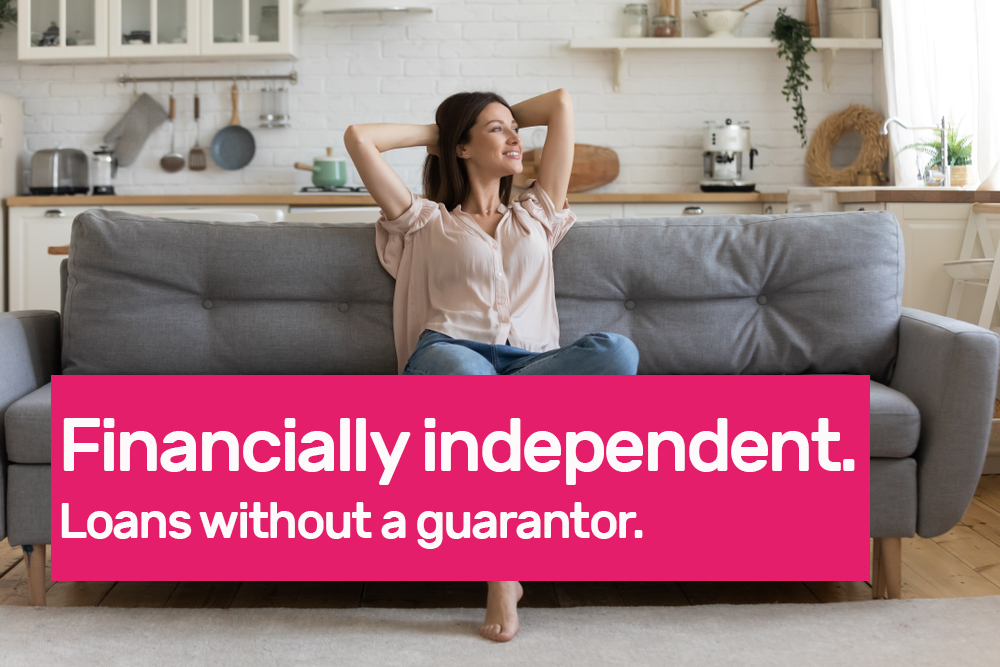 Most direct lenders in the past required a guarantor for all bad credit loans. This has changed and more and more lenders now provide bad credit loans without a guarantor.
Loans without a guarantor, will I be approved?
No guarantor loans were rare and usually featured unfavourable lending terms. Thankfully, this has changed. Many direct lenders have realised that this unfairly prevented some people from getting loans when they needed them.
With an increasing number of lenders offering unsecured loans specifically designed for people with no guarantor, the market has become quite competitive; giving you more choice and better repayment terms.
Find your best rate loan without needing an initial credit check.
'Soft Credit Match' our broker partner's technology matches your profile with our industry-leading panel of Financial Conduct Authority (FCA) approved direct lenders without leaving any mark on your credit record.
With no obligation & no cost – it's the best way to find a loan.
Get Your CreditMatch
What is a no guarantor loan?
A no guarantor loan means that you are solely responsible for the loan you take out. Whilst this independence is what many applicants are looking for when they seek a loan without a guarantor, it also means that it is very important that the short-term loan is repaid in the time and manner agreed with the direct lenders.
A no guarantor loan means that you are solely responsible for the loan you take out.

New Horizons
Because loans with no guarantor mean the lender has no safety net if you do not repay the loan, these loans can feature higher APRs than loans that do require a guarantor. Whilst this is not true for every lender and many now offer very competitive no guarantor loan rates, it is important that you shop around to find the very best lender for your own requirements.
Can I get a loan for bad credit with no guarantor?
The quick answer is yes. Looking past a person's credit history, many lenders now use more relevant, up-to-date data when assessing your application.
Focusing on your current financial and employment status rather than your credit history and score, many lenders now offer no guarantor loans for bad credit that have been specifically designed for people with poor credit histories. As an independent introducer, our role at New Horizons is to match you with the very best loans for your specific requirements.
The easiest way to find out if you qualify for a loan with no guarantor is to complete the application process through New Horizons. You are comparing your circumstances to the criteria of more than fifty lenders, which will maximise your chances of being accepted for a no guarantor loan.
Can New Horizons help me if I have bad credit?
Wanting to ensure everyone has equal access to loans without guarantors, we specialise in helping people with bad credit get access to loans, including those that require loans without guarantor.
Each lender has their own set of criteria you must meet to be offered a loan. Some of these lenders insist on a guarantor, but many do not. We have several lenders on our panel that specialise in providing loans to people with a poor credit rating. You can apply to see if you have been accepted with no obligation and no trace on your credit report.
What you need to know


Why use us?
How much can new customers borrow?
Up to £5,000
No fees, ever!
What are the repayment terms?
3 to 36 Months
No paperwork
Representative APR
49.9% (variable)
No obligation quote
Can I apply with bad credit?
Yes
Instant decision
Can I repay in instalments
Yes
Flexible repayment
Do lenders credit check?
Yes
We only soft-search
How much can I apply for without a guarantor?
You can apply for an amount that falls within the minimum and maximum loan amounts of New Horizons. We offer access to no guarantor loans from £50 to £5000. Whether or not you'll be accepted will be dependent on you meeting the criteria for the amount you want to borrow. The best way to find out if you qualify for your preferred loan is to fill out an application.
Understanding that no guarantor loans are often required suddenly and unexpectedly, we will do everything we can to get you fast access to the best bad credit loans with no guarantor; making the entire process as quick and easy as possible.

New Horizons
Is it more expensive to get a loan with no guarantor?
A significant factor in determining the APR rate you'll be charged on your loan is the amount of risk to the lender. Therefore, people with bad credit typically pay a higher interest rate because they pose a greater risk.
Having a guarantor provides a lender with an extra layer of security, meaning lending without a guarantor can pose a higher risk, which will be reflected in the interest rate. However, we have lenders that specialise in many different types of loans, and the difference can be negligible. Complete our application form to see what the best deal is for your circumstances.
All of the lenders we work with are authorised and regulated by The Financial Conduct Authority and offer full transparency regarding every aspect of their loans. As such, we can guarantee that there will be no hidden fees or shocks. This means that if you have bad credit, you can quickly compare which loan with bad credit offered by lenders in the UK require no guarantor; allowing you to make a more informed decision and helping to ensure you get the very best deal for you.
Will I need to pay a fee if I have no guarantor?
New Horizons never charge a fee for using our service, regardless of your circumstances or credit rating.
The lender should make any costs associated with your loan clear upfront. For instance, some lenders don't charge interest on smaller payday loans. They will agree a fixed fee with you instead. All our lenders are registered with the FCA (Financial Conduct Authority) so will be upfront about any fees or the APR rate if applicable.
Can I get a no guarantor loan without a credit check?
No. You can apply through New Horizons without having a full credit check because lenders initially only perform a soft credit check. This gives enough information to compare your details to our panel of lenders without leaving a mark on your credit report.
However, if you're eligible and accept a loan offer, all reputable direct lenders are required by the FCA (Financial Conduct Authority) to carry out a full credit check before they release any funds. If a company says they can get you a loan without a credit check, we would advise you to be wary of dealing with them. They may not be registered with the FCA, or they could merely be misleading you.
What can I do if I am struggling to repay my debts?
If you are struggling with your debts and require assistance. You can speak to the companies below, free of charge.