Being a single parent can be tough enough without the added concern of finance and making ends meet. Juggling childcare, work and daily expenses, you're likely to feel overwhelmed if you're parenting solo. However, despite going it alone, you're not actually alone in this. In fact, there are around 1.8 million single parents in the UK according to Gingerbread, a single parent charity. This makes up roughly a quarter of UK families. If you're one of these single parents, we've created a guide that will tell you how to manage your money and what single parent benefits you may be entitled to.
Contents:
How Much Should A Single Parent Make?
While there is no set amount to what a single parent 'should' make. We can provide guidelines for the average cost of children. According to 2017 study from the Child Poverty Action Group, the average cost of raising a child from birth to 18 years old is £75,436 for a couple. Unfortunately, this increases for single parents, with a whopping £102,627 expected to raise your child into their late teens. This averages at roughly £5,700 per year and excludes any household bills and council tax.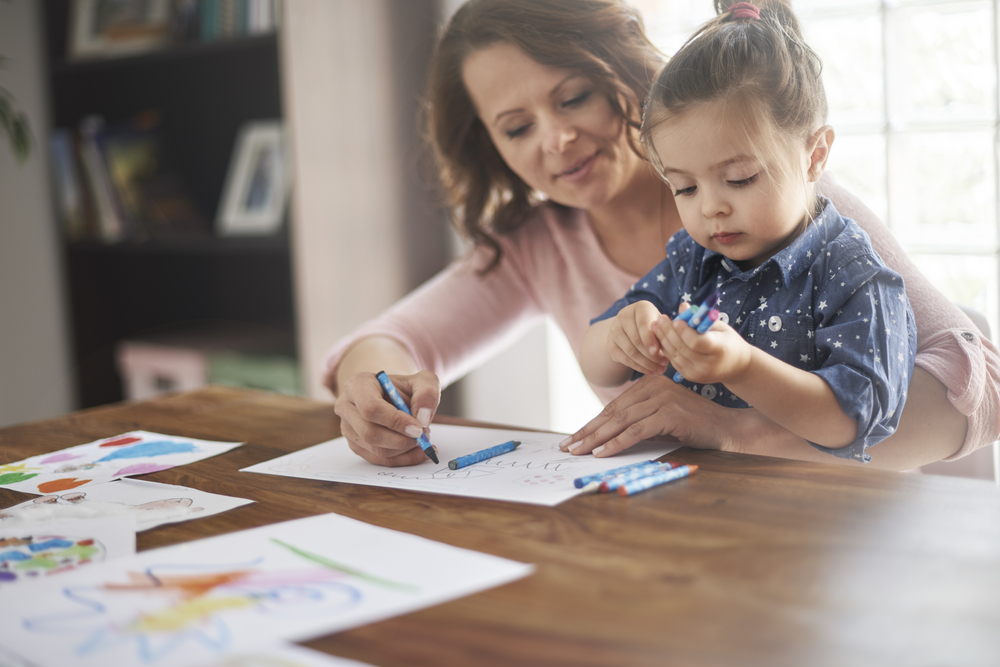 How to Budget as a Single Parent
Seeing as you're likely to have half the income of the average couple, spending over £5000 a year on your little one is likely to be tough. If this is the case for you, there are ways you can cut back on your current costs to save money where possible. Expense tracker apps such as Mint can show you where your money is going each month. Alternatively, Money Advice Service also offers a free budget planner.
After this, you can see where to cut back. For example, if you're wasting money on a gym membership that you rarely use, cancel it. If the main source of your spends is the weekly shop, consider switching to cheaper supermarkets or cutting back on unnecessary luxuries. If your bills are sky high, invest in a smart meter which will help you track your electricity consumption, or switch suppliers to get a cheaper deal.
Read more: Managing Your Finances When Your Little One Arrives Home
If budgeting still doesn't help you cover the cost of your children, it's time to seek ways you add to your income. One of the most helpful ways to do this is through single parent benefits.
What Benefits Can I Claim as a Single Parent?
As a single parent, there are several government benefits and schemes you may be eligible for. These usually come in the form of monthly sums to help you out and your eligibility often depends on your employment status and your earnings.
1. Child Benefits
Child benefits are offered by the government to parents bringing up a child who is under 16 years old (this can be under 20 if they stay in education). As of 2020, you can receive £21.05 a week for your first child and £13.95 per week for any additional children. This is paid every 4 weeks and there is no limit on how many children you can claim for.
Child benefits are popular for single working parents as they are available even if you're employed and have savings. If you're also signed up to other benefits, they won't reduce these other payments. Furthermore, if you earn less than £166 a week, you can even receive National Insurance credits towards your state pension.
Read more about Child Benefits on Gov.uk
2. Universal Credit
Child Tax Credit, Housing Benefit, Income Support, Income-Based Jobseeker's Allowance and Working Tax Credit have now all been replaced with Universal Credit. This is paid monthly to help those in need with living costs and is aimed at people out of work or on a low income.
The standard allowance you receive is £342.72 per month if you are single and under 25, for those single are over 25, you can expect £409.89 a month. Having children makes you eligible for an extra £235.83 per child. If you suffer from any health conditions or disabilities this will also increase your monthly allowance.
Eligibility depends on your earnings, to check whether you are eligible, visit Gov.uk.
Money Advice Service also discuss the hours of work you'll be expected to do to receive Universal Credit as a single parent. For example, for those with children who are between the ages of 3 and when they start full time school, they will be expected to do 16 hours a week of working or job hunting. For those with children of school age up until 13 years old, it's 25 hours a week. For those with children aged 13 or above, 35 hours of work or job hunting a week will allow you universal credit.
3. Healthy Start Scheme
The NHS have introduced a Healthy Start Scheme aimed at helping parents with young children. If you are eligible for this scheme, you'll receive weekly vouchers to spend on your food necessities, such as milk or fruit and vegetables.
To be eligible you must be at least 10 weeks pregnant or have a child under 4 years old. You must also be receiving government benefits, this could include Income Support, Jobseeker's Allowance, Child Tax Credit, Pension Credit or Universal Credit. Read more about eligibility here.
To see all the benefits and grants you may be eligible for as a single parent, check out these benefits calculators that will look at your specific circumstances.
As well as the above single parent entitlements, there are other ways to increase your income without turning to government schemes.
4. Child Maintenance Fees
The most obvious form of single parent help is child maintenance fees. This will involve a conversation with the other parent to see how they can help financially. Even if said parent no longer sees the child, they are still responsible for contributing towards their living costs.
Child maintenance can either be arranged privately between the two of you, or through the Child Maintenance Service government scheme. This is a good option if you want to avoid contact with the other parent or you cannot agree on an arrangement.
If you're unsure how much you should ask for, use this child maintenance calculator. This will also let you know how much the government is likely to give you.
If you cannot agree with the other parent and decide to go through the government, the Child Maintenance Service does not affect any benefits you receive. Read more on Gov.uk.
5. Single Parent Grants
For single parents who are unemployed and struggling financially, certain charities are set up to help. For example, Gingerbread has been the UK's leading charity for single parents since 1918. They offer support around 1,000 single parents each year through training programmes aimed to improve their employability. They also provide expert advice on all the finance available to you as a single parent.
Turn2Us is another UK based charity aimed at providing financial support to those who need it most. Through this charity you can apply for single parent grants which will help you with your everyday costs. The criteria for this may be based on your age, location, health conditions and your current or past jobs. To search for grants which you are eligible for click here, or to read more about single parent grants, click here.
6. Ask for a Pay Rise
This option is obviously only applicable to single working parents who may not be eligible for some of the previously mentioned benefits or grants. If you feel you're constantly working with not much to show for it, or you've outgrown your salary, it's worth talking to your boss about the prospect of a pay rise. Talking to the BBC, Pip Jamieson, founder of the professional networking site The Dots, adds:
"No one ever got fired for asking for a pay rise. In fact, rather the opposite – asking for more money shows ambition and shows you want to stay with the company."
Before having this conversation with your employer, ensure you do your research and find out how much a person in your line of work should receive on average. You can find this out via a salary comparison website or talking to your HR department. Most importantly, review your performance and be prepared to back up any claims with evidence of when you have gone above and beyond.
7. Single Parent Loans
A last resort for those who have exhausted every other option is a short-term loan. These can help single parents due to their flexibility and can help make your money stretch until payday. You can borrow anything from £50 to £1000 and payback within 1-12 months.
Eligibility for loans usually considers your earnings and your credit score, which can be checked for free through sites like Experian or ClearScore. If you don't have a sterling credit score, consider reading our guides on bad credit loans.
Before applying for a loan, ensure you will have sufficient funds to cover the repayments and avoid debt, also be sure that the lender is reliable, and the offer doesn't look 'too good to be true'.
If you're set on borrowing money, New Horizons can help you find the best rate from a panel of trusted lenders.