Adding a small child into the mix of your already lifestyle can cause stress. If you've recently come off maternity and are looking to get back to work, the last thing you want to be doing is taking your little one along for the ride!
If you're struggling to find time to look after your new child, there's no need to worry – childcare is here to help. There are plenty of options to choose from and making sure your little one gets the attention and stimulation they crave is easy. There's even Government funding to help you along the way so you don't end up burning a hole in your pocket.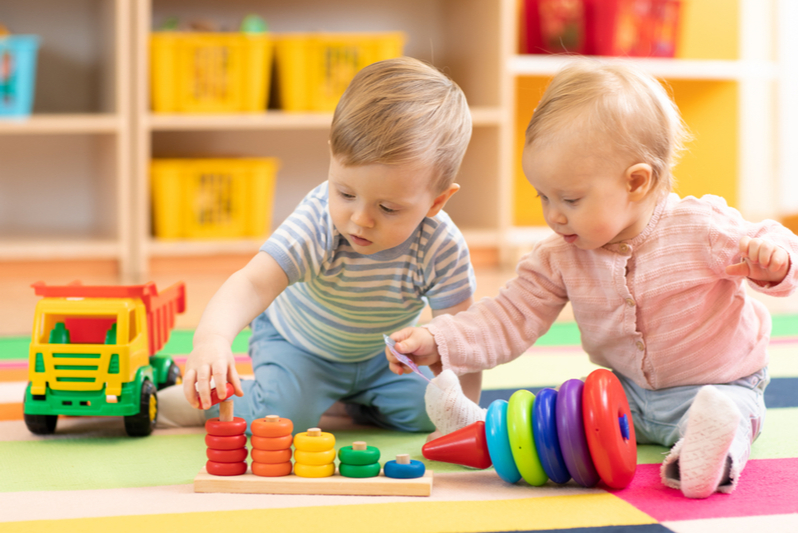 This short guide will give you the lowdown on what childcare is, the funding options you have, and the services you can choose to use so your child rests in safe hands while you're going about your day. Let's get stuck in.
An Introduction to Childcare
Childcare is the process of using external services to look after and care for your child. It can involve another individual coming to your home or sending your child to a separate environment, like a nursery.
All in all, it's an effective, reliable way to make sure your little one is safe and secure when you're out of the house. However, these services can come at a cost. However, there's no need to worry too much as there are plenty of funding options available to support you during this process.
The UK government has a complete programme which covers children at differing ages. However, as plenty of the support isn't titled as childcare funding, it can be difficult to know your entitlements. And while most support is given for children who are between 3 and 4 years old, there are options for those between 0 and 3 years old too.
What Childcare Support Is Available for New-Borns?
You'll be happy to know your wallet doesn't have to dry up when it comes to childcare. As mentioned , the Government is happy to jump in and support you during this process and it's easier to qualify than you might think.
The amount of childcare you receive depends on the age of your child and your current finances. As your child grows from new-born to toddler, they'll require different care needs and more advanced education. Here's a quick breakdown of the different levels of childcare funding and where you can use this money to support your child's development.
1. Universal Credit
If you, or your partner, are claiming universal credit and working (or are about to start working), you may be eligible for universal credit for childcare. Of course, it will depend on your personal circumstances and where you live.
If you are eligible to receive this funding, you'll be able to claim back up to 85% of your childcare costs for any child under the age of 17. For one child, you could receive up to £646 a month. For two or more children, you could receive up to £1108 a month.
As with the other benefit-related options, you can't stack them. If you are using tax credits or the tax-free childcare scheme to alleviate the burden of childcare costs, you can't claim universal credit for your childcare.
2. Tax-Free Childcare Scheme
If you're a working family, either employed or self-employed, earning under 100K a year and a minimum of £139/week, you may be entitled to tax-free childcare.
With this scheme, the Government can give you up to £2000 per child based aged 0-11 years of age. If your child has a disability, you may receive up to £4000. It works via an online account which you pay into. For every £8 you pay, the Government will contribute £2.
You can also be eligible even if you're still on paternity/maternity/adoption leave or are unable to work either because of disabilities or caring responsibilities. However, as previously mentioned, you can't claim tax-free childcare if you're claiming universal credit or tax credits.
3. Tax Credits
If you still receive tax credits, you can apply to claim back 70% of your childcare costs for children under the age of 16 (17 for disabled children). However, this scheme is more or less closed and will continue to phase out as time goes by. Some people may still be able to claim this funding but if you don't qualify/have your application accepted you can apply for universal credit (detailed below).
With tax credit for childcare, however, you could receive up to £122.50 a week per child and £210 for two or more. Bear in mind, this does depend on your income.
It's worth noting as well that you cannot stack these benefits. Therefore, you can't utilise tax credit for childcare if you're already using universal credit or tax-free childcare, which we will discuss below.
15 Hours of Free Childcare for 2 Year Olds
If your little one is 2 years old and you already receive some form of support (universal credit, tax credits, etc.) you may be entitled to 15 hours of free childcare or early education for 38 weeks. A total of 570 hours can be used across the year and can be flexibly used with one or more childcare providers.
There is a lot of leeway when it comes to eligibility for this childcare funding option. To see the full criteria, check out the UK government's advice hub.
Childcare Support for 3 & 4 Year Olds
There are two options available if your little one is aged 3-4 years old. One is available to all families in England, whereas the other is available to all working families in England.
1. 15 Hours of Free Childcare
If you're a family and have a child between 3 and 4, you could be eligibly for 15 hours of free childcare or early education over 38 weeks. This totals at 570 hours a year and it can be used with one or more providers. Some providers also allow you to stretch the time over 52 weeks, so choose the best option for your situation.
If you use your 15 hours to put your child in to early education, you'll be able to use the time from either the 1st January, 1st April, or 1st September (when term starts). Bear in mind that these free hours don't cover meals, consumables, and additional trips. These have to come out of your own pocket, unfortunately.
2. 30 Hours of Free Childcare
If you're a working family in England and have children between the ages of 3 and 4, you could be eligible for 30 hours of free childcare or early education for 38 weeks. This totals up to 1140 a year and, like the above option, can be used with one or more care providers Additionally, some providers allow you to stretch that time across 52 weeks if it suits you better.
Unlike the above option, this choice depends on your financial situation. If you or your partner earn less than 100K a year and more than £139 a week, you can claim this free time. Again, you can place your child into childcare when the term starts, ether on the 1st of January, April, or September, and they must have a valid 30 hours code.